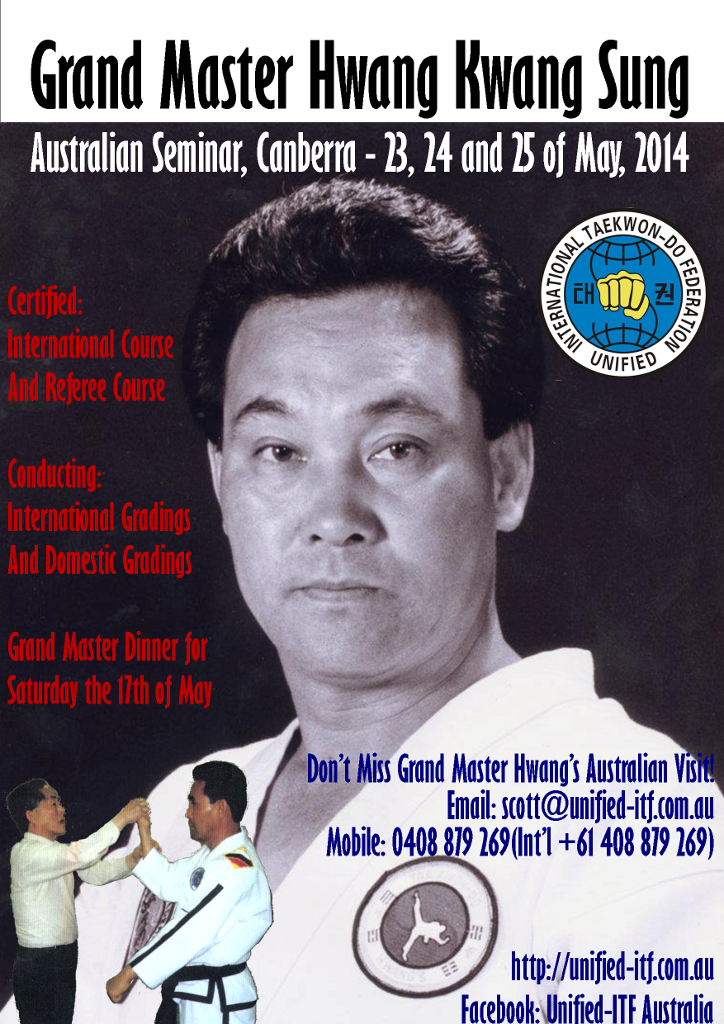 Click Here to Register Online! - May, 2014 will see Grand Master Hwang visiting Australia again.  This time, Grand Master Hwang will be conducting an International Seminar in Canberra on May 23rd, 24th and 25th, 2014.  This 2 and a half day Seminar will qualify for both International Instructor's Course and Referee's Course for the purposes of International Certification where appropriate.  For those who are eligible, Grand Master Hwang will be conducting Dan Gradings for All Domestic and International Ranks at the end of the Seminar (Sunday Afternoon), If you believe you are eligible, please contact your Instructor first or Sabum Scott Bower otherwise for further information and applications. Grading history, thesis and applications will need to be in 6 weeks prior (by close of business on the 11th of April) to be eligible for Testing.
About Grand Master Hwang
Grand Master Hwang, promoted to 9th Degree in 1997 by General Choi Hong Hi himself, has been a loyal and dedicated student of General Choi since meeting him in 1967.  He has learned Taekwon-Do from the founder non-stop since then until The General's passing in 2002.  Grand Master Hwang spent the last decade of the General's life literally by his side as his servant, his confidant and most importantly, as his loyal student.  Given the continuous Taekwon-Do Career with the General in excess of 35 years, Grand Master Hwang is without a doubt a valued asset to the pool of knowledge and experience that completes the legacy of Taekwon-Do today.  His knowledge of Modern Taekwon-Do as the General envisioned it is arguably unparalleled.
About the Unified International Taekwon-Do Federation
Incorporated as a legal entity in 2004, the Unified International Taekwon-Do Federation strives to teach Taekwon-Do as the Founder taught it.  The Unified ITF provides a central resource and community around the General's Legacy providing educational Seminars, Workshops and Certification against these resources.  The Unified ITF also provides International Competition and Open World Championships to showcase the Authentic Taekwon-Do and to foster goodwill among compatriots in the Art.
About Unified ITF in Australia
In a step away from Convention, Unified ITF Australia provides benefits to it's membership aside conducting Workshops, and hosting Unified ITF Seminars and Competition at subsidised rates. Unified ITF Australia supports the members that support it through the provision of Business development and guidance, Professional Development and Professional Sports Sciences consultation. 
Unified ITF Australia are a collection of supportive, focused and friendly practitioners who are, more importantly, non-exclusionary to any and all practitioners with a genuine desire to learn Taekwon-Do as the Founder himself taught it, regardless of your political alignment.  For potential members, Unified ITF Australia allows for a wide range of conditions that can be individually tailored to your situation.  You can take advantage of a complete turn-key solution, integrating you and where appropriate, your members as part of an existing National Club or conversely, allow your Individual Club and Personal Identity to develop unimpeded while providing an Internationally recognised and certified platform for support and development in Taekwon-Do through the Unified International Taekwon-Do Federation.
It's been an eventful few months on the International scene. With the World Championships well behind us, we've settled back into routine soundly and got on with things.  I'm currently working on a schedule for 2014 which contains a minimum of Four Gup Gradings and Two Dan Testings throughout.  This will be squared away over the next month or so to ensure a running start for 2014.  I'll also be putting forward plans to host our first Seminar with Grand Master Hwang or nominated Senior in his stead, providing we can get the support for it here.
Having kept in touch with the Unified ITF since the Worlds, a series of circumstances beyond my control have occurred and I've been offered the opportunity to represent their interests in the Australian region in lieu of a possible permanent  Representative Entity being stood up.  This is obviously a huge role and responsibility to take on, given I know Grand Master Hwang and his family on a personal level, I'll endeavour to represent in the best capacity I can in the interim.  Currently, Unified ITF in Australia is a small and close-knit family.  Although I remain reserved about the circumstances that led to this point, we're happy to have found our collective home and I'm looking forward to the rewards and challenges this role will inevitably provide.
I naturally had concerns taking up such a monumental role and I had ample time to consider it.  Through my experience with the UITF these last few years and more recently over the last couple of months, I'm happy to say the UITF are a forward thinking organisation with process and procedures that protect the interests and principles of the Art over wholesale membership and as a fledgeling International Community I'm proud to be given an opportunity to be engaged, providing input in it's direction and policy, a change from simply being a passive member of my club forwarding my beliefs and opinions to my Senior.  The UITF have also provided a number of supporting offers, as quoted by the Secretary General of the Unified ITF, Ms Jade Hwang on behalf of Grand Master Hwang;
"It is essential that all members of all dans receive legitimate, internationally recognized certificates as well as have access to the education and resources to continue their training. We will make all possible accommodations to this end. The Unified ITF has many quality instructors and Masters worldwide that are available for seminars, promotional testing and Taekwon-Do courses."
With five Dojangs across three schools in Sydney and Canberra, we have a modest start and all things considered, Unified ITF in Australia is doing well.  Our own aligned Club, Tong-Il Taekwon-Do, has built up to around 40 Training Members and with the new Northside Dojang set to open next year, our own future is off to a resounding start as well.  From time to time, a new era dawns with a major change in life-circumstances.  As quoted from a Master lending his advice to me recently; "Just continue to be you, your integrity will shine through and things will just fall into place.".  I like to believe this is one of those very events and I really do look forward to seeing where our future takes us now.  If you too are an Individual, Club or Organisation wanting to be part of an Internationally resourced and recognised group of practitioners teaching and learning True Taekwon-Do, I encourage you to Contact Us or Find out more...
Yours in Taekwon-Do!
Sabum Scott Bower
6th Degree International Instructor and Examiner
Tong-Il Taekwon-Do Australia
Unified International Taekwon-Do Federation - Interim Australian Representative